Seram Project
Overview
Lion, through its wholly owned subsidiary Lion International Investment Limited, holds a 2.5% participating interest in the Seram (Non Bula) Block Production Sharing Contract onshore Seram Island in eastern Indonesia. The PSC covers an area of 1,524 km2.
The major equity holder and Operator of the Joint Venture is CITIC Seram Energy Limited (51%). Other partners include KUFPEC (Indonesia) Limited (30%) and Gulf Petroleum Investment (16.5%).
The bloc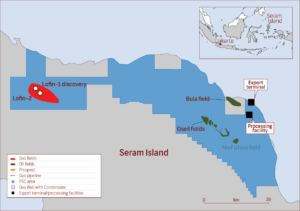 k contains the Oseil oilfield and surrounding structures that are producing approximately 2,533 bopd (60 bopd net to Lion) as at 30 September 2017. In addition, the block contains the Lofin discovery which the joint venture appraised in 2014-15 with the highly successful Lofin-2 well. The well proved a gas column of up to 1,300m for the large Lofin feature with an area at the interpreted gas water contact of over 40 sq km. The 100% 2C contingent resource for Lofin is 2.02 tcf with 18.3 mmbbl condensate making it one of the largest onshore gas discoveries in Indonesia for many years.
The PSC expires end October 2019 and the JV is working at all levels in an endeavour to secure an extension or renewal of the PSC over the area. An application for extension was formally submitted to the relevant Indonesian Government authorities during 2016. Work is also ongoing on development options for the large Lofin Gas Field.
The Seram Project contains the producing Oseil oilfield and surrounding structures which have since initial field start-up in January 2003, produced cumulative crude oil production of 16,538,109 barrels as at 30 September 2017 accompanied by 6.50 BCF of natural gas, most of which gas is utilised to generate electricity on site for the operations. Proven (1P) remaining reserves are 3,388mbbl (as at 31 December 2016).
Investment in the Oseil Field Phase 1 Development commenced in January 2000 and Phase 2 in March 2004. The area of Phase 1 and Phase 2 Development covered the Oseil-1/4 and Oseil-2 areas and provided for the drilling of 18 wells, which have been drilled.
Phase 3 Development
The Seram Joint Venture has secured all external approvals for a third phase of development drilling on the Oseil field (referred to by the regulators as a Plan of Further Development or POFD). The Phase 3 development plan includes the drilling of up to 10 additional horizontal wells in the Oseil-2 area. The Phase 3 POFD was formally approved by the Indonesian regulatory body, SKK Migas, on 5 May 2015. A total of 6 wells have been drilled so far as part of the Phase 3 plan with total field production averaging approximately 2,533 bopd for the September 2017 quarter.
In 2015 the Lofin-2 appraisal well confirmed a highly material gas discovery with contingent resources1 (2C) of 2.02 tcf and 18.3 mmbbl condensate (Lion share 50 bcf gas and 0.5 mmbbl condensate).
The Lofin Field is a thrust faulted four-way dip anticline located 60km west of the Oseil Field. The field is mapped on 1990 and 2008 vintage 2D seismic lines and is approximately 4km wide and 10km in length.
The reservoir is the fractured carbonate of the Jurassic/Triassic age Manusela formation which is the reservoir in the nearby producing Oseil field. The overlying Jurassic marine Kola shale provides the regional seal with the main source rock interpreted to be the underlying mature Late Triassic Saman-Saman Formation.
The Lofin-1 exploration well was drilled in 2012 to a total depth of 4427m MD (4323m ssTVD) and was interpreted still to be in hydrocarbons, representing a current minimum interpreted gross hydrocarbon column of 160m. After acidizing the well flowed gas and oil/condensate at a rate of 15.7 mmcfgd and 171 bopd of 36.1° API condensate, with a flowing wellhead pressure of 4750 psi through a 24/64 inch choke. Downhole shut-in pressure data acquired during testing operations indicated potential for a significant hydrocarbon column below the total depth of the Lofin-1 well.
The Lofin-2 well to appraise the Lofin-1 discovery spudded on 31 October 2014. Lofin-2 intersected the primary Manusela objective at 4615m MD (4508m ssTVD) and continued through to a total depth of 5861m MD (5686m ssTVD). A successful well test commenced on 21 May 2015 and was conducted as a multi-rate test using different choke sizes to maximise reservoir information, over a 7 day period. On a 52/64 inch choke the well flowed gas at approx. 17.8mmcfpd with approx. 2634bpd water and completion fluid and approx. 54 bpd of 34.9° API condensate, with a flowing wellhead pressure of 2250 psi (96 hour flow period on 52/64 inch choke). On the smallest choke setting (16/64 inch) the well was flowing gas at approx. 4.95mmcfpd with approx. 12 barrels condensate and approx. 280bpd water with a flowing wellhead pressure of 5000 psi (12 hour flow period on 16/64 inch choke). Tested gas quality is good with approximately 3.7% C02.
Lofin-2 delineated a continuous gas column of up to approximately 1300m for the large Lofin structure and provided critical new information on porosity of the Manusela limestone, net/gross within the hydrocarbon column, fracture density, hydrocarbon saturation and fluid type.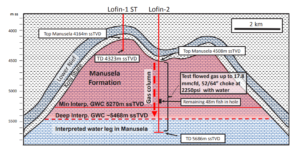 Contingent resources1 (2C Best Estimate) compiled by Lion for the Lofin discovery are 2020bcf gas and 18.25mmbbl condensate (100% basis). Lion 2.5% working interest share of 2C contingent resources is 50bcf gas and 0.46mmbbl condensate.
Work is ongoing on development options for this resource which include a potential LNG development.
(1Contingent Resources those quantities of petroleum estimated, as of a given date, to be potentially recoverable from known accumulations by application of development projects but which are not currently considered to be commercially recoverable due to one or more contingencies. Contingent Resources are a class of discovered recoverable resources. There is no certainty that any portion of the contingent resources will be developed or, if developed, there is no certainty as to either the timing of such development or whether it will be commercially viable to produce any portion of the resources.)
Summary conditions of the Seram Production Sharing Agreement (PSC):
Type
Seram Project
Country, region
Indonesia, Seram
LII's equity interest
2.5%
Other participating interest holders
CITIC (51%) Operator
KUFPEC (30%)
Gulf Petroleum (16.5%)
Original Contract Area (OCA)
7,620 km2
Date of the PSC
22 May 2000 (effective date 1 November 1999)
Date of Expiry
31 October 2019 (Government of Indonesia approval required for extension of PSC beyond this date)
31 October 2019 (Government of Indonesia approval required for extension of PSC beyond this date)
1,524 km2
Initial Term
4 years to reach Commercial Petroleum
Relinquishments
By end 3rd year 10% of OCA (completed)
By end of 6th year additional 30% of OCA (completed)
By end 10th year, retain only 20% of OCA (or 1,524 km2) (completed)
Signature bonus
US$350,000 (paid)
Equipment and/or service bonus
US$50,000 (paid)
Remaining commitments
Production Bonus US$1 million at 30 MMBOE
Production Bonus US$2 million at 80 MMBOE
Production Bonus US$3 million at 150 MMBOE