Lion Energy Limited ("Lion" or "Company"; ASX: LIO) is pleased to provide an update on our exciting ~200km onshore seismic survey in the East Seram PSC. Lion, via a 100% owned subsidiary, is operator of the survey which is being conducted by seismic contractor BGP. The program is covering prospects and leads with combined (unrisked) Best Estimate (P50) Prospective Resource1 of 675 mmboe (Lion ASX announcement 13/4/22). Lion has a 60% interest in the East Seram PSC with our joint venture partner OPIC having a 40% interest. The survey is being approximately 80% funded by OPIC under previously
announced farm-in arrangements (Lion ASX announcement 26/9/19).
Highlights include:
No lost time incidents to date despite 466,000-man hours exposure and 765 people deployed, with a
strong emphasis on health, safety, and the environment
Seismic recording due to commence in late October 2022
Despite some delays, Lion anticipates the survey will still be conducted within 5% of the overall budget
number of approximately US$7.2mm.
Mobilisation for the survey commenced in May 2022 with the initial focus on community relations, setting up operations bases and communications infrastructure and employing and training local staff. Surveying and line clearing commenced in early June, helicopter support was mobilised to the island on late July with shot hole drilling also commencing in late July. Lion and BGP continue to successfully manage issues including the difficult drilling conditions and challenging terrain in the southeast area of the survey and the logistics associated with operating in a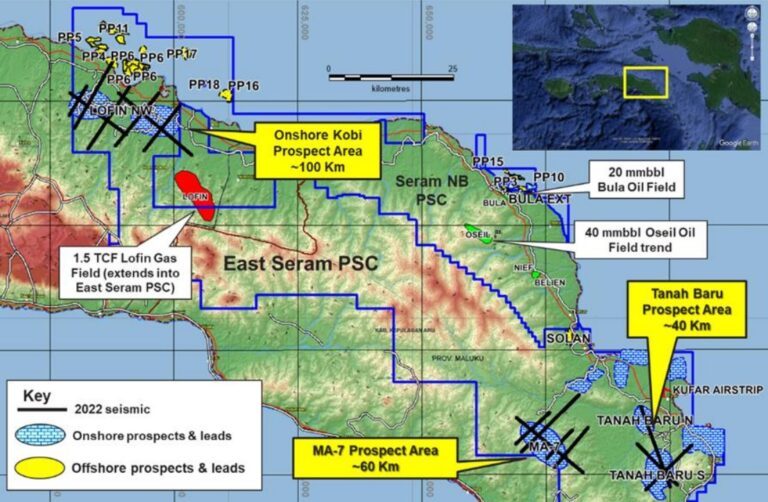 remote location. We have now completed over 95% of the required surveying and line clearing and approximately 50% of the shot hole drilling. Layout of the recording cable has commenced with recording due to commence in Late October.
Lion's CEO Tom Soulsby noted "Lion looks forward to the commencement of recording operations on this important survey which is targeting some of the largest undrilled structures in Indonesia. Despite the many challenges of conducting seismic operation in a remote location we are pleased we have maintained solid and safe progress with our contractor BGP and look forward to the survey being completed by year end with processing of the date scheduled to be completed in Q1 2023″

Good progress has also been made with the concurrent gravity data acquisition which is approximately 80% complete.
Lion is close to appointing the seismic data processing company after running a competitive tender process and will update the market in due course. Lion aims to have the survey drilled and recorded by year end and to complete processing around March 2023.
Prospective Resources are those quantities of petroleum estimated, as of a given date, to be potentially recoverable from undiscovered accumulations by application of future development projects. The estimated quantities of petroleum that may potentially be recovered by the application of a future development project(s) relate to undiscovered accumulations. These estimates have both an associated risk of discovery and a risk of development. Further exploration appraisal and evaluation is required to determine the existence of a significant quantity of potentially recoverable hydrocarbons.
In accordance with ASX Listing Rule 5.43 the Company confirms that references to prospective resources have previously been announced (04/03/2019, 26/9/19, 13/04/2021 and 13/4/2022). The Company confirms that it is not aware of any new information or data that materially affects the information included in this announcement and that all the material assumptions and technical parameters underpinning the estimates in this announcement continue to apply and have not materially changed.
bbl: barrels
GIP: gas in place
PSC: Production Sharing Contract
Bcf: billion cubic feet
JV: joint venture
psi: pounds per square inch
bpd: barrels per day
KB: Kelly bushing
ss; sub sea
bcpd: barrels condensate per day
mmcfgd: million cubic feet gas per day
TCF: trillion cubic feet
bopd: barrels oil per day
mmbbl: million barrels
TVD; true vertical depth
bwpd: barrels water per day
mmboe: million barrels of oil equivalent
CO2: carbon dioxide
Conversion factor: 6 mcf = 1 bbl oil equivalent
(boe).
This ASX announcement was approved and authorised for release by the Board of Directors.