Reserves and Prospective Resources
Lion Energy has an exciting portfolio of opportunities with an attractive mix of producing, appraisal and exploration projects.
The Seram (Non Bula) PSC provides existing production with the highly material upside of the Lofin gas condensate discovery;
Lion's East Seram PSC signed on 17 July 2018 contains an extension of the Lofin Field and world-class, highly material leads and prospects.
Lion also continues to pursue production opportunities in the SE Asian region
A summary of Reserves and Prospective Resources (as at 10th September 2018) for Lion Energy are shown in the following table::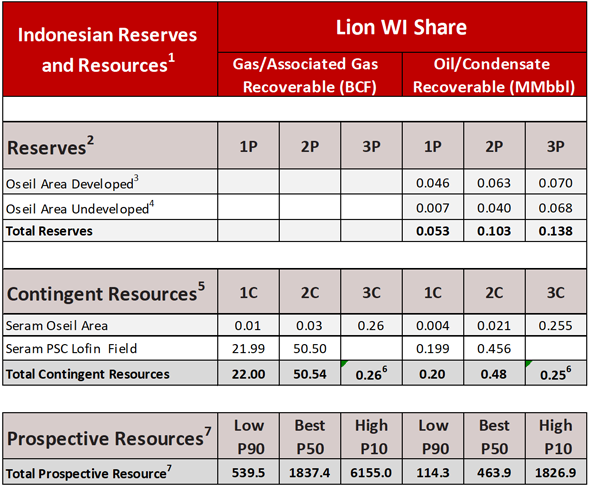 For a detailed table including breakdown by field and prospects please click the table above.
Notes:
Reserve and contingent resource estimates as at 31 December 2017 based on report by DeGolyer and McNaughton prepared for CITIC Seram Energy Limited with adjustments made following renewal of Seram (Non-Bula) PSC announced on June 1 2018. Reserves have not been modified to reflect post Dec 31 2017 production. Prospective Resources for East Seram PSC as per Lion Announcement of 10 September 2018.
Reserve estimates have been calculated using the deterministic method. Analysis of performance trends were used to estimate proved developed reserves. The performance trends associated with new well were used to assess how wells scheduled for future drilling would perform for the purpose of estimating proved undeveloped reserves as well as the probable and possible reserves associated with the future wells.
Developed reserves include production for Oseil 2 and Oseil 1/ 4 area with estimates of 1P, 2P and 3P based on forecasts of Degolyer and McNaughton (including production post Oct 31 2019) from existing wells.
Includes undeveloped reserves which are quantities expected to be recovered through future investments: (a) from new wells on undrilled acreage in known accumulations, (b) from deepening existing wells to a different (but known) reservoir, (c) from infill wells that will increase recovery, or where a relatively large expenditure is required to either recomplete an existing well or install production or transportation facilities for primary or improved recovery projects. The Oseil 2 area with approved plan for 4 additional wells is included in this Proven undeveloped category with range of outcomes based on DeGolyer and McNaughton production estimates.
Contingent resources are those quantities of petroleum estimated, as of a given date, to be potentially recoverable from known accumulations using established technology or technology under development, but which are not currently considered to be commercially recoverable due to one or more contingencies. Contingent Resources have an associated chance of development (economic, regulatory, market and facility, corporate commitment or political risks). These estimates have not been risked for the chance of development. There is no certainty that any portion of the contingent resources will be developed and, if developed, there is no certainty as to either the timing of such development or whether it will be commercially viable to produce any portion of the resources.
3C contingent resources have not been calculated for the Lofin Field. The 3C number provided refers to Oseil area fields only.
Prospective resources in this Table have been estimated probabilistically at lead level but combined arithmetically to provide the portfolio number. The aggregate P90 may be a very conservative estimate and the aggregate P10 may be a very optimistic estimate due to the portfolio effects of arithmetic summation.
Lofin Field Extension potential in East Seram PC potential currently assigned as prospective resource rather than contingent resource pending further analysis.
Competent Persons Statement: Qualified Petroleum Reserves and Resources Evaluator
Pursuant to the requirements of the ASX Listing Rules Chapter 5, the technical information, reserve and resource reporting provided in this document are based on and fairly represent information and supporting documentation that has been prepared and/or compiled by Mr Kim Morrison, previous Chief Executive Officer of Lion Energy Limited. Mr Morrison holds a B.Sc. (Hons) in Geology and Geophysics from the University of Sydney and has over 30 years' experience in exploration, appraisal and development of oil and gas resources – including evaluating petroleum reserves and resources. Mr Morrison has reviewed the results, procedures and data contained in this website. Mr Morrison consents to the release of this report and to the inclusion of the matters based on the information in the form and context in which it appears. Mr Morrison is a member of AAPG.\