Seram Project
Overview
Lion has now secured the largest land position on the immature Seram Island, East Indonesia containing the recently drilled 2TCF Lofin gas discovery. The discovery has transformed our focus at Seram. Lofin is the largest onshore gas discovery in Indonesia since the early 1990's.
Lion has 2.5% of the Seram (Non Bula) Block PSC (SNBB), which is highlighted in light blue below. SNBB covers an area of 1,353sqkm.
Lion has 100% of the East Seram PSC (ES), which is highlighted in dark blue below. ES covers an area of 6,505sqkm.
| PSC | Signed | Term | Area (km2) | Status | Gross Reserves / Resources | Operator | LIO W.I. |
| --- | --- | --- | --- | --- | --- | --- | --- |
| Seram (Non Bula) | 31 May 2018 Effective 1 Nov 2019 | 20 Years from Effective date | 1,353 | 2,000 bopd production Lofin Gas Development | 2P Oil > 3.5MMbo 2C ~2.0 TCF & 18MMbc | Citic | 2.50% |
| East Seram | 17-Jul-18 | 6/10/30 Years | 6,505 | Exploration | Exploration Potential > 1.0 Billion boe | Lion | 100% |
Seram is characterized by two distinct hydrocarbon plays, the tertiary which was the historical focus like the Bula Field, and the new pre-tertiary play (Oseil oil and Lofin gas).
The tertiary play is mature onshore and offers up low volume, low risk opportunities in close proximity to existing infrastructure.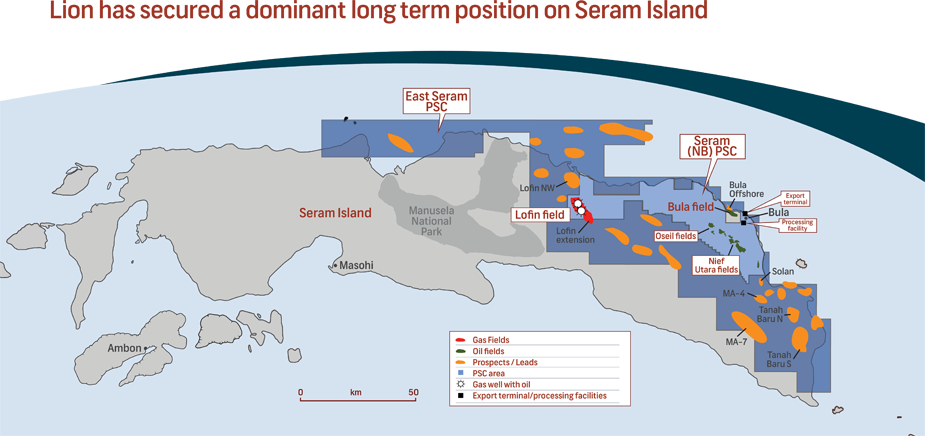 The play is immature offshore, particularly the extension of the Bula field which is low risk with moderate upside. The offshore tertiary play is immature, particularly the extension of the Bula Field, which is low risk with moderate volume potential.
The pre-tertiary Manasela limestone play is immature and our main focus.
Some six wells have penetrated the Manusela formation and all have found hydrocarbons including:
2 Oil productive (Neif and Oseil)
1 Found Gas (Lofin)
Our acreage contains a proven but underexplored fold belt play, thick carbonate reservoir and world class Jurassic source rocks. This is a globally prolific play.
The fold belt is not thin skinned, so faults come through to the service, meaning structures seen at the surface are manifested in the subsurface and on gravity.
The faults are the connection between source and reservoir and are also manifested by surface oil seeps.
There are numerous Lofin and Oseil analogues along the identified structural trends in the East Seram PSC .