Lion Energy Limited ("Lion" or "Company"; ASX: LIO) is pleased to advise that field operations on the exciting onshore seismic survey, in the East Seram PSC, have been successfully completed. Lion, via a wholly owned subsidiary, is operator of the survey with a total of 194km of data recorded with no lost time incidents (LTI's). The program covered prospects and leads with combined (unrisked) Best Estimate (P50) Prospective Resource1 of 675 mmboe (Lion ASX announcement 13/4/22). Lion has a 60% interest in the East Seram PSC, with our joint venture partner OPIC having a 40% interest. The survey was approximately 80% funded by OPIC under previously announced farm-in arrangements (Lion ASX announcement 26/9/19).
A total of 15 2D seismic lines acquired with 194km of data recorded.
No LTI's despite 957,000-man hours and up to 865 people deployed, with a strong emphasis on health, safety and the environment.
Despite challenges, the survey was conducted within 10% of the overall budget of US$7.2mm.
Preliminary results promising in terms of data quality and structures delineated.
The completion of the survey is a major milestone for Lion's exploration efforts in the East Seram PSC. The new data is designed to mature some of the large leads and prospects to drillable status. As previously advised (Lion ASX release 25 October 2022), recording of the seismic data commenced in the northwest onshore Kobi area in late October and was completed in this area in early December.
When operations moved to the more operationally challenging Tanah Baru and MA-7 Prospect areas in the southeast of the East Seram block, a second
Figure 1 East Seram, area showing location of onshore seismic survey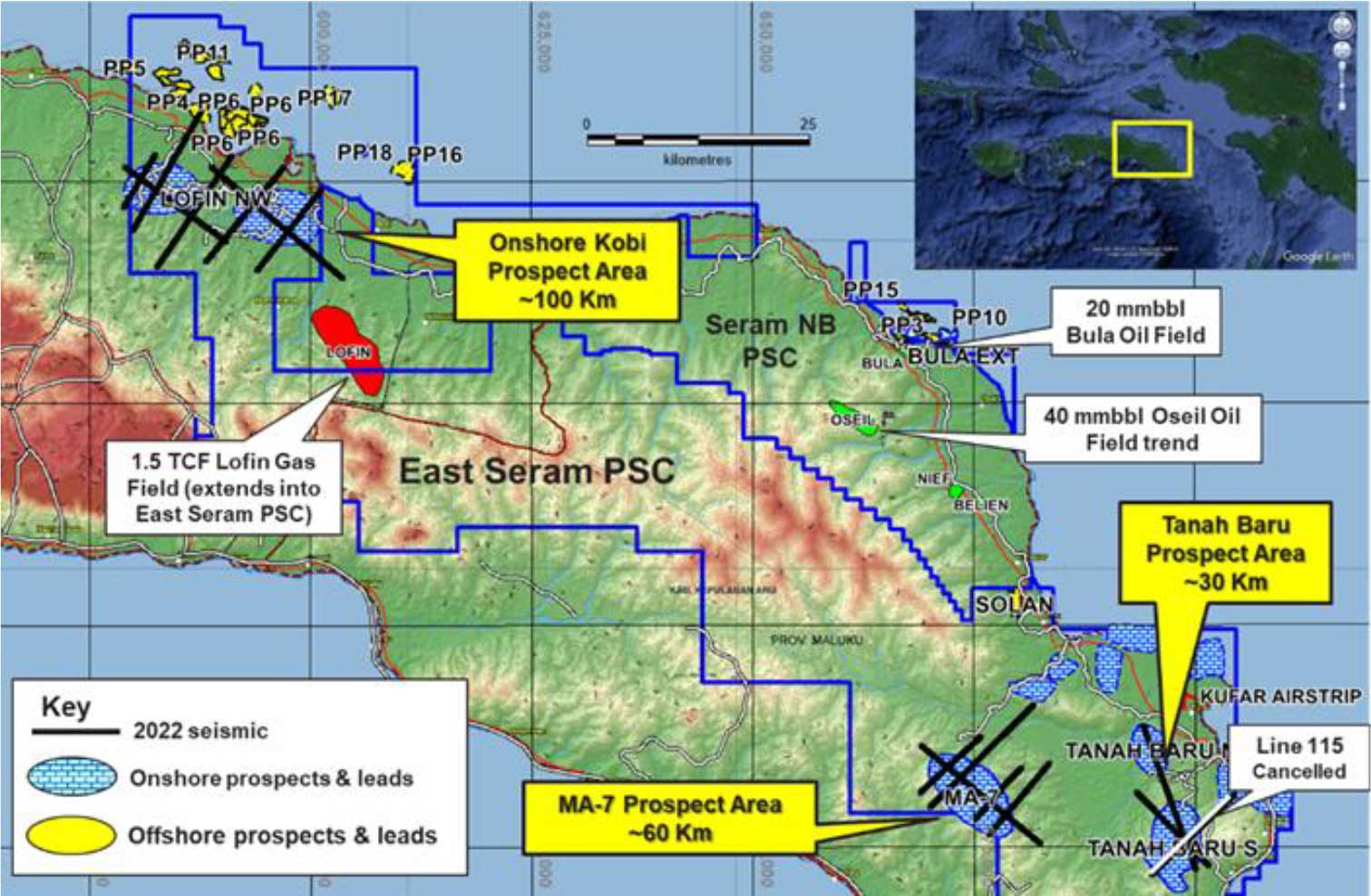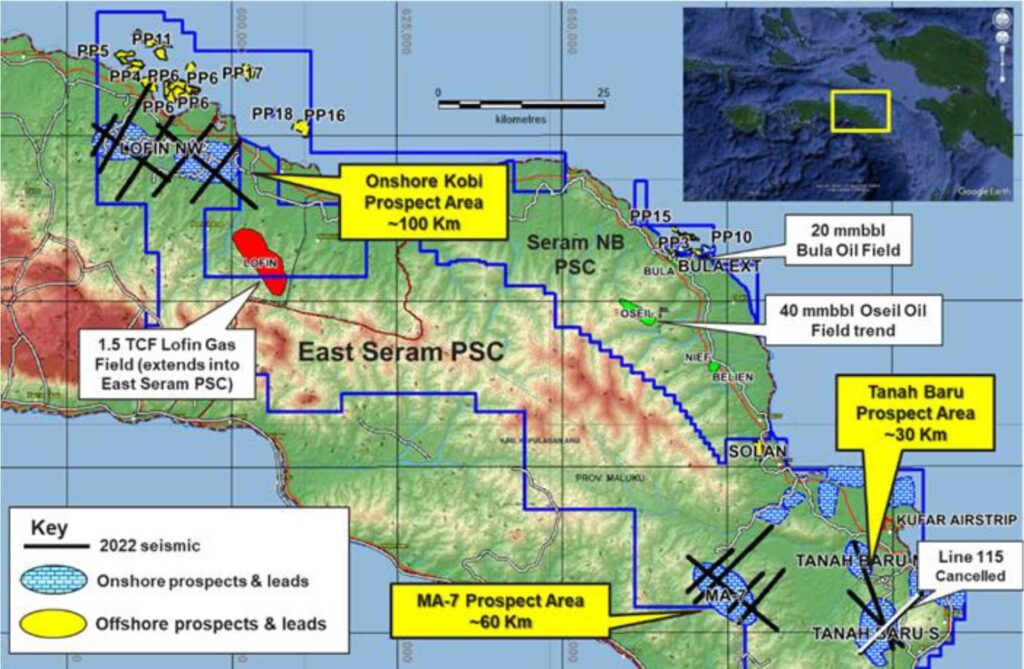 helicopter was mobilised in late November. Operations proceeded well with the seismic recording in the southeast area and the recording activities for the entire survey completed post quarter-end on 8 January 2023. The complementary Gravity Data survey acquisition (1000 stations) was completed on 7 December. Processing of the data by BGP in their Jakarta processing centre commenced in late November 2022 and is due for completion by Q2 2023.
Lion's Executive Chairman, Tom Soulsby noted: "Lion is extremely pleased to have successfully completed field activities on our land seismic survey in the East Seram PSC. This represents a major accomplishment for Lion and our single largest investment over the last 10 years. The survey was conducted safely with no LTI's and close to the budget estimate which is a testament to the professionalism of Lion's operational team and the contractors involved in the survey. We now look forward to the processing and interpretation of the data expected to deliver some world-class prospects by Q2 2023 when we will update investors." In total, approximately 194 km of line data was recorded during the survey which includes 14 km of recorded line tails without shot holes. Initial field processed results are positive with overall good data quality, representing a significant improvement on previous seismic surveys in the area. Due to an issue with land access approval in an isolated area in the Tanah Baru prospect, a decision was made by Lion management in late December not to record one of the seismic lines (line 115). This decision was supported by the Indonesian regulator SKK Migas. Lion is, however, confident that there remains sufficient data to mature the Tanah Baru prospect. In addition to the two new lines (lines 116 and 117) and the new Gravity Data acquired, there is existing 2008 vintage seismic to aid the interpretation.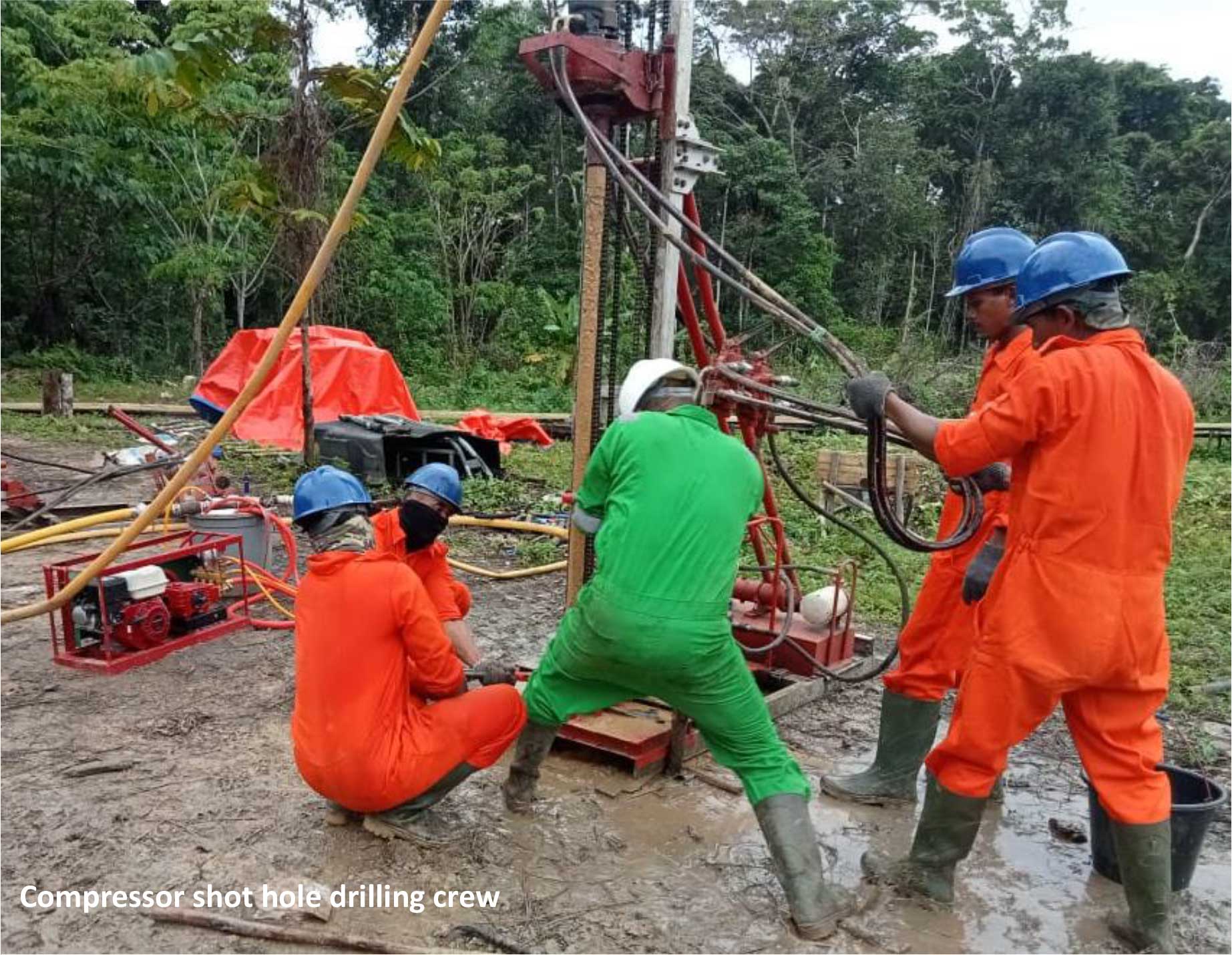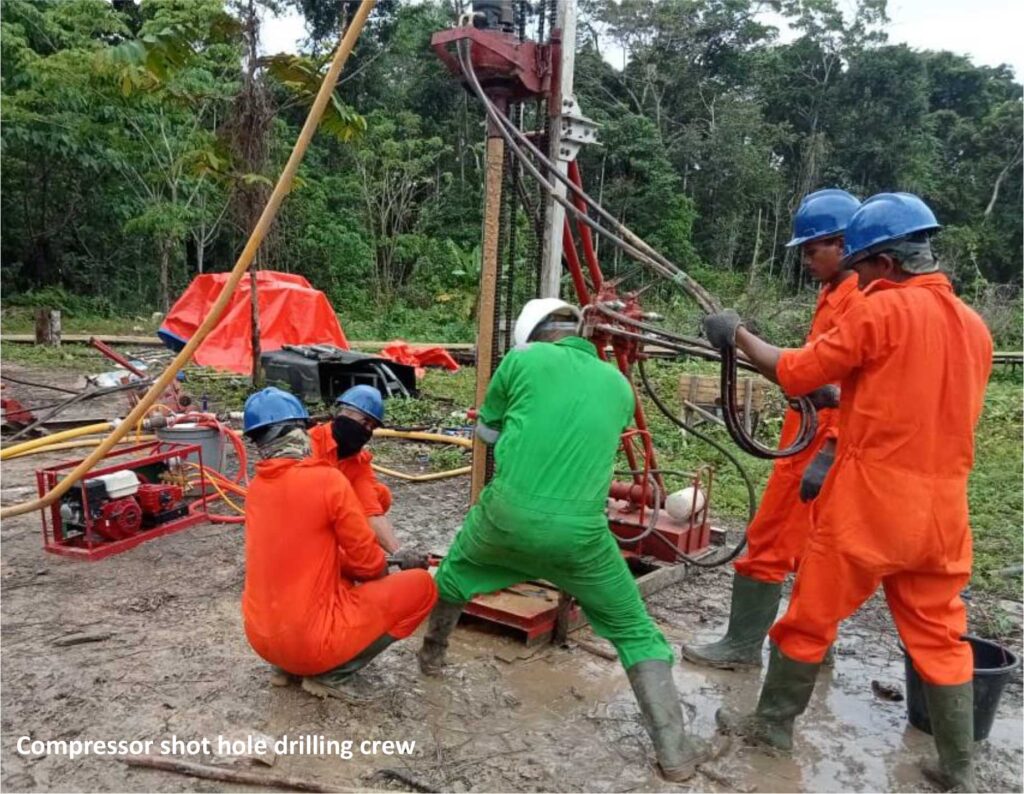 1Prospective Resources are those quantities of petroleum estimated, as of a given date, to be potentially recoverable from undiscovered accumulations by application of future development projects. Prospective Resources have both an associated risk of geologic discovery and a risk of development. Prospective Resources are further categorized in accordance with the range of uncertainty associated with recoverable estimates, assuming discovery and development, and may be sub-classified based on project maturity. Further exploration, appraisal and evaluation is required to determine the existence of a significant quantity of potentially recoverable hydrocarbons. 
In accordance with ASX Listing Rule 5.43 the Company confirms that references to prospective resources have previously been announced (04/03/2019, 26/09/2019, and 16/06/2021). The Company confirms that it is not aware of any new information or data that materially affects the information included in this announcement and that all the material assumptions and technical parameters underpinning the estimates in this announcement continue to apply and have not materially changed.
| | | |
| --- | --- | --- |
| bbl: barrels | GIP: gas in place | PSC: Production Sharing Contract |
| Bcf: billion cubic feet | JV: joint venture | psi: pounds per square inch |
| bpd: barrels per day | KB: Kelly bushing | ss: sub sea |
| bcpd: barrels condensate per day | mmcfgd: million cubic feet gas per day | TCF: trillion cubic feet |
| bopd: barrels oil per day | mmbbl: million barrels | TVD: true vertical depth |
| bwpd: barrels water per day | mmboe: million barrels of oil equivalent | |
| CO2: carbon dioxide | Conversion factor: 6 mcf = 1 bbl oil equivalent (boe) | |
This ASX announcement was approved and authorised for release by the Board of Directors.